Introduction of squeezer
The washed LDPE film is transported into the squeezer, inside the squeezer, there is a special screw which running continually. LDPE film scraps will be compressed by running screw.
During pressing, there is strong friction between LDPE film scraps and the machine, it makes friction heating, which helpful for drying.
At the outlet of the machine, there is a hydraulic valve. At the beginning it is closed, and the more LDPE film scraps compressed, the higher pressure the valve bear. And the valve will open for discharging when hydraulic pressure reached the set point.
This squeezer has the following characteristics:
1.This machine is our new designed machine, specially screw pressing dewatering design;
2. It is equipped with a electric control cabinet, easy to control the drying effect;
3. This machine is especially for plastic film, plastic bags, woven bags, Solve the drying problem for soft plastic.
4. after squeezing, the moisture will be 6-8%, and work together with Thermal drying system, moisture can be 2-3%.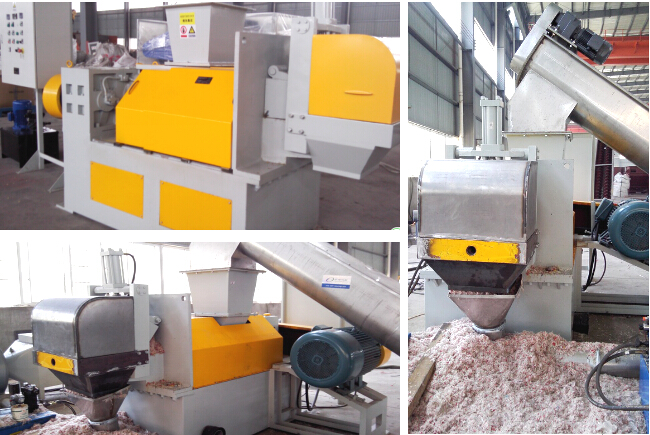 Technical Data
Model

SQ5075

Capacity(for LDPE)

1000kg/h

Dimension(L*W*H)

2623mm*1534mm*2400mm

Motor Speed

960rpm

Motor power

75kw

Others

Motor drive


V-Belt transmission


Protection cover for V-belts for safety

With control cabinet and hydraulic station for the squeezer.

*Please contact us for more models information