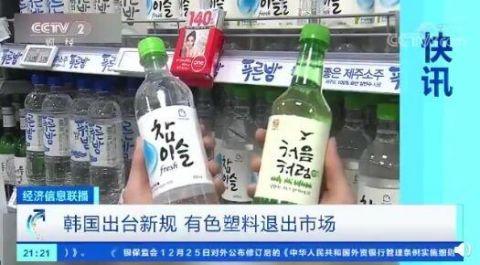 Korea forbids colored plastics. Packaging or labels made from PVC, colored plastic bottles and ordinary adhesives on bottles will be banned, all of which are difficult to recycle.
In this year August, South Korea's Ministry of Environmental Protection announced that the new regulations on resource recycling will come into force on December 25th. Now, South Korea officially implements the amendment to the law on the recycling of resources.
On the first day of the amendment, the traditional green plastic bottles of soda, drinks and so on have been removed from the shelves of supermarkets in South Korea and replaced with colorless and transparent bottles. The packaging bottles of cosmetics and alcohol are planned to develop new containers that can be recycled within two years.
When PVC is mixed with other synthetic resins in the recycling process, durability will be reduced, and HCL and other harmful chemicals will be discharged in the recycling process.
In 2017, the production of PVC packaging in South Korea reached 4589 tons. This kind of packing is usually used as packing materials for food and other commodities.
However, there is also a special exemption from the use of PVC in the packaging of certain designated products, including medicines directly related to health and safety, ham and sausages preserved at room temperature, and wet fish and meat.
Colored bottles and packaging using ordinary adhesives will also be banned as they are difficult to recycle. The colorless plastic bottle is easy to disassemble and recycle.
The new policy will first take effect on bottled water and tea, which accounted for 67% (192000 tons) of all plastic bottle production in 2017.
Products on the list of banned products need to be changed, and those that do not act within one year after the notification will be banned from sale or fined up to 1 billion won ($824000).
In addition, South Korea's Ministry of Commerce plans to convene an expert committee every two years to update the list of banned or exempted products.
<PET bottles recycling solution , http://www.get-recycling.com/solutions_show.asp?id=12>